About Charlie Oldham
Charles Oldham follows in the grand tradition of English woodcarving, restoring work by master carvers of the past, and creating new works using those same skills. As well as conserving the objects he restores, Charlie believes passionately in preserving the ancient skills he learned from an older generation of carvers.

In turn, he is now passing on his knowledge by offering regular midweek woodcarving classes around his other commissioned work. Visit this page if you are interested in signing up for a class.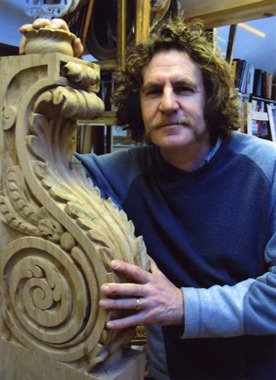 Charlie served his apprenticeship in three London workshops run by master carvers of the time, following an Art School education in the 1970s. Setting up his own first independent workshop in 1988 in Deptford in Southeast London, his work was soon recognised, and he was nominated onto the Master Carvers Association in 1990.

He has worked on some of the major restoration projects of Windsor Castle, Hampton Court Palace and Spencer House. For the National Trust, he carved a life sized sculpture of a pony for the carriage museum at Arlington Court in Devon.

Whilst based in Frome, he was involved in carving replacement ornament for the refurbishment of the Dower House in Bristol; Tredegar House, Newport in South Wales; and in Redland Chapel, Bristol.

A commission to carve eight Coats of Arms for a display in Oldham Borough Council's office led to Charlie being accepted as a member of the Society of Heraldic Artists.

In 2017, Charlie relocated his workshop to bigger premises in Walton, Somerset where his work includes:
Teaching regular woodcarving classes
Carving new pieces
Restoring pieces for the antique trade
Restoring some of the finest of the Chippendale Rococo mirror frames
Interior design projects
Architectural restoration on historic buildings
Specialist heraldic carving